How to Maintain Social Distancing whilst Working at Height
In every area of industry, changes have had to be made in an effort to reduce the spread of COVID-19 and keep staff and employees safe, while endeavouring to restart businesses.
In many instances it's been a relatively painless exercise. Asking staff to continue working from home, while keeping just a skeleton crew in the office to deal with enquiries from the general public. For a lot of people, working from home has been welcomed with open arms.
In other businesses, not so. In the manufacturing, construction, and facilities management industries, government guidelines regarding social distancing have thrown up a new set of challenges when it comes to health and safety in the workplace.
Many areas of the construction industry already lend themselves to social distancing requirements. To begin with, much of the work is undertaken in the fresh air. Dumper and digger drivers spend their day working on their own. Hod carriers can have an area stacked out before the bricklayer arrives on site, and chippies and electricians are used to working alone. But how do you solve the problem of social distancing when working at height, for those who have to work in close contact with workmates, constructing towers or working off platforms?
Safety Improvements to Minimise Spreading the Virus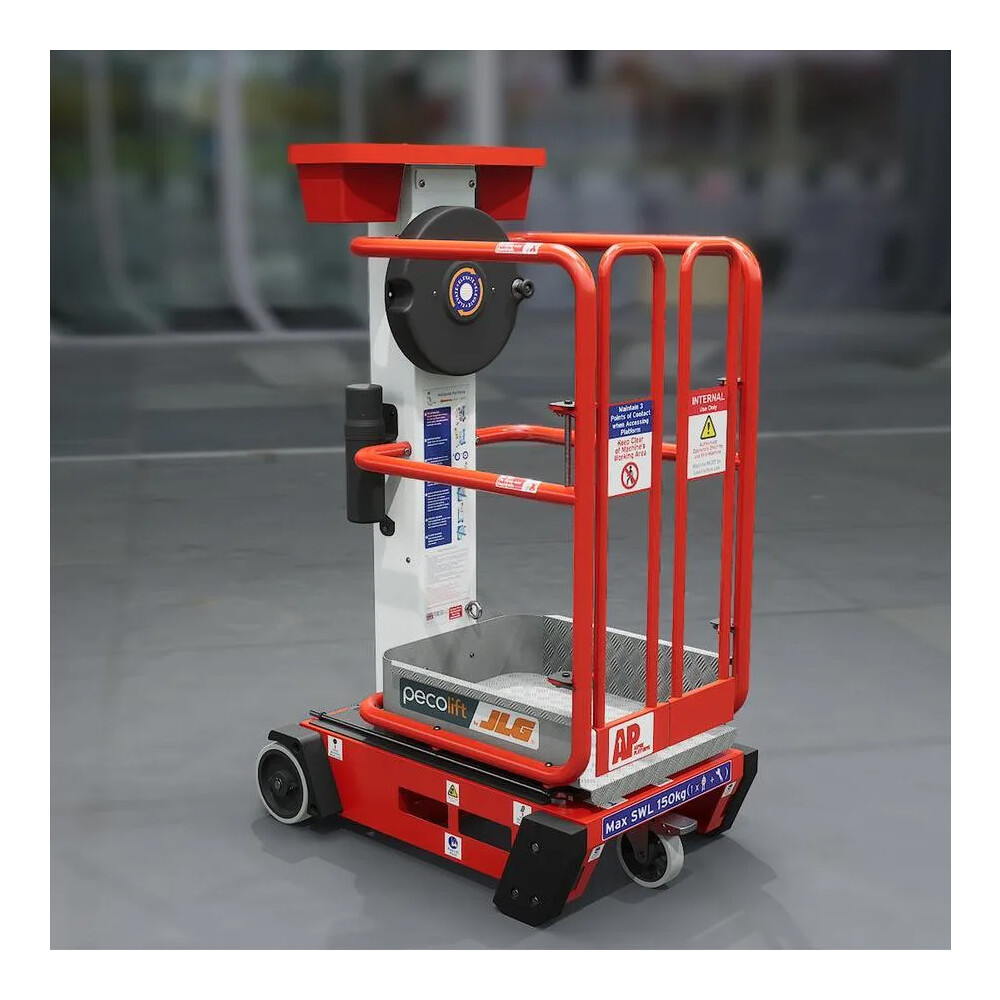 Here at Aspire Group, we have been considering how we can help our clients get back to work with minimum disruption and maximum safety. To this end, we have added two new towers to our range of height working equipment. The JLG Pecolift Push Around, comes fully operational and ready to hop into and wheeled around and positioned by a single operator. It has a maximum lift of 3.5m (11.5ft). The single handle allows the operator to wind the lift up to the required height.
Its sister platform, the JLG Ecolift Push Around has the same spec, but with a maximum working height of 4.2m (13.8ft). Both are designed to hold just one man. However, their compact nature allows one-man easy manoeuvrability through doorways, and they can operate in tandem. Meaning they can be used side by side, (suitably distanced) to keep a two-man fixing crew together – but apart.
We believe these single operator/user towers will be of particular interest to facilities managers when grappling with the issues of social distancing when working at height. Under normal circumstances, onsite maintenance engineers, or contract painters, plumbers, or electricians, often have to call on the assistance of other work colleagues to help move around standard towers as and when required. Using our JLG Push Arounds, that task is simply and quickly carried out by one person, reducing the need for any form of close contact.
Helping Minimise COVID Transmission
Whatever the equipment you hire from us, you can be sure it has been fully serviced and sterilised prior to delivery. Our delivery crews will be wearing the necessary PPE, and have hand sprays to keep work gloves virus free while carrying or moving equipment to where you need it.
If the job at hand requires the use of one of our aluminium tower platforms, we suggest using minimum personnel to erect it. Common sense always plays a big part when dealing with unprecedented situations, but we would suggest the wearing of face masks, and spray or liquid disinfectant be made available so your construction crew can disinfect their hands or work gloves before and after the tower has been built. Far better a little extra caution, than key personnel having to go into home quarantine for ten days or two weeks.
If you would like more information on our push around towers, our range of height working equipment, or our social distancing when working at height covid safety procedures, please contact us on 0330 100 2833.