WHICH POWERED ACCESS/MEWP SHOULD I HIRE?
At Aspire, we believe that hiring should be SIMPLE. This is why we have our powered access platform and tower selector tool on the home page, helping you narrow down your search for the suitable equipment!
Here's a quick checklist:
HIRE CHECKLIST
WORKING HEIGHT
This is the maximum height you will be able to reach whilst carrying out the job at hand. The working height figure is two metres higher than the Platform Height. Working height is your most important consideration. As an example, our Haulotte Star 10 can reach a working height of 10 metres and has a platform height of 8 metres.
PLATFORM HEIGHT
This is the height that your chosen powered access machine will reach. This measurement is taken from ground level up to the base of the cage.
OUTREACH
This is how far a Boom Lift can extend horizontally. The measurement is taken from the center of the turret and then a further 5cm is added. On every product page, you will see a picture of the machine's 'working envelope', allowing you to see the machine's outreach at different heights.
In the example within the image, you can see that the Niftylift HR12 4×4 (include this picture) – Caption: Working Envelope Niftylift HR12 4×4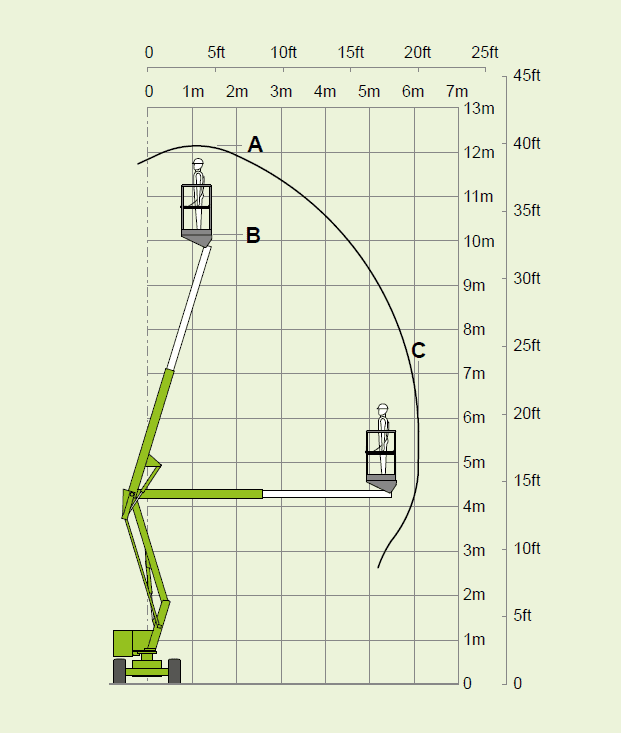 MACHINE TYPE
If you are just going straight up with no outreach, then a Push Around, Self- Propelled Mast Boom or Scissor lift will be perfect.
If the job in hand requires outreach, you will need a Telescopic Boom or Articulated Boom Lift. A Telescopic Boom allows you to move up and out in a straight direction (diagonally for example), whereas an Articulated Boom can go 'up and over' obstacles, as it has a secondary arm that gets you into areas more difficult to access.
POWER TYPE
Your Power Options are Electric, Diesel, Bi-Energy, Push Around
Indoor Powered Access
Electric and Push Around options are commonly utilised whilst working indoors. Obviously, these machines have no emissions so are the safest to use within an indoor environment. When working indoors, remember to check the width and height of any entrance, exit, internal doors and other small spaces. You can then check the 'closed width' and 'closed height' of any machine on its product page, so you can guarantee that it will fit through. Our Dingli 1612 is perfect for getting maximum height within small spaces, achieving a working height of almost 16 metres yes has a small closed width of only 1.25 metres and a closed height of 2.59 metres.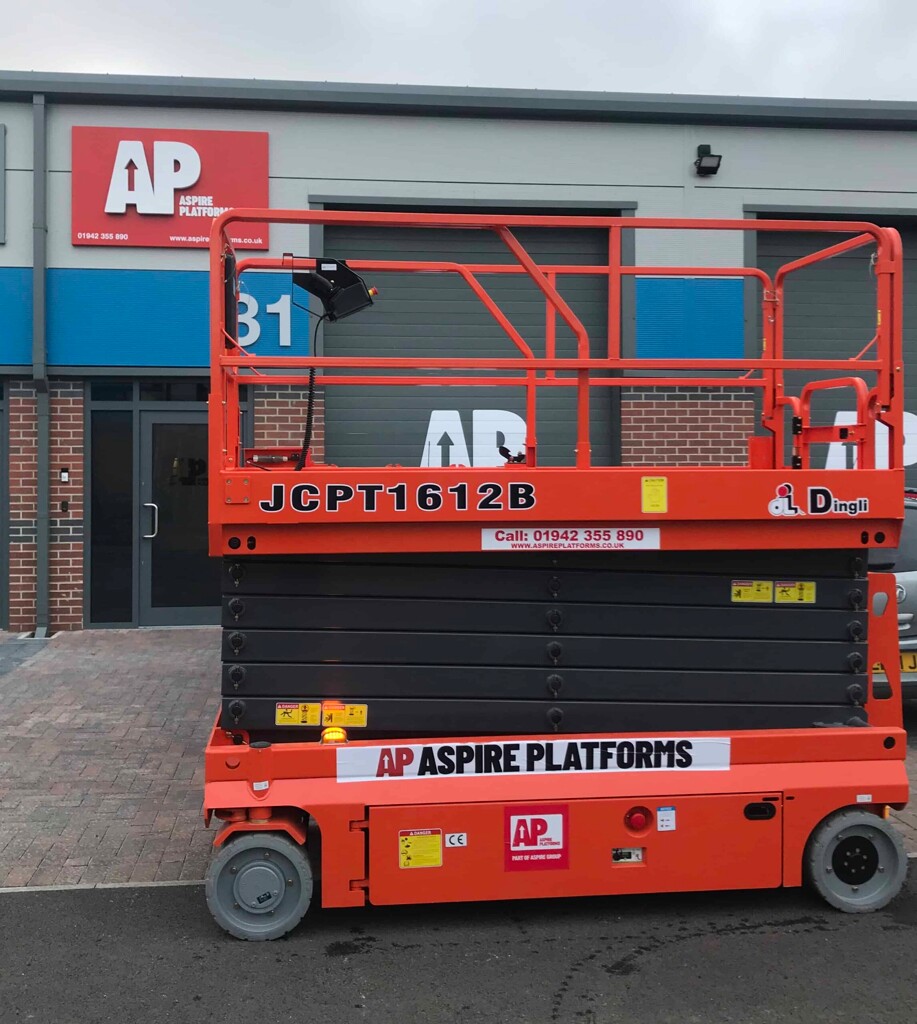 Outdoor Powered Access
Diesel machines and Bi-Energy/Hybrid machines are used for outdoor use. Bi-Energy is also the best option if you hire powered access machines that need to be used both indoors and outdoors during the same job. All machines used outdoors have a wind rating, that you will find within the operator manual (you will find this on every product page).
WORKING CONDITION
A big consideration also needs to be the nature of the ground you will be working on.
Flat Ground Powered Access
If you are working on flat hard ground, for example, the concrete floor of a warehouse, then you have a full scope on the powered access machine you can hire. A Skyjack 3219 for example is one of our most popular powered access hires for a working height of up to 7.8 meters.
Rough Terrain Powered Access
If you are working on rough terrain, uneven ground or soft ground, this could be hazardous if your powered access machine does not have the correct tires. A Niftylift HR12 4×4 for example comes equipped with suitable tyres so its 3.5 tonnes of weight don't leave you in a sticky situation!
GRADIENT
If you are working on a surface where the powered access machine will be on an incline, ensure that the machine can operate safely at this angle. Every Aspire product page includes this information on the specification tab. Also note, when working on a gradient, a machine's safe working load reduces! This info can be found within the operator manuals, available on the product pages.
Safe Working Load/Capacity
It is extremely important to ensure that the safe working load/capacity of the machine equals the weight of operative/s working in it, plus his/their tools. An average male weighs approximately 80kg.
Aspire Platform Selector
Again, the Aspire Platform Selector tool on the home page will help you narrow down your search to the correct machine for the job. From there, more detail can be found within the specific machine pages, where you will find tabs for the working envelope, full specification and operator manual.